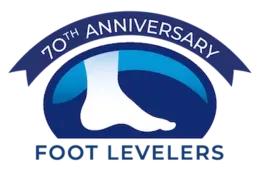 Good Health Starts with the Feet!
For 70 years, Foot Levelers has been making custom orthotics that are clinically proven to help reduce pain and improve whole body wellness by balancing the body from the ground up. Your feet are your body's foundation and structural imbalances in your feet can lead to conditions such as overpronation, plantar fasciitis, low back pain, knee pain, hip pain, sciatica, or achilles tendinitis. Foot Levelers custom orthotics, Shoethotics® and Sandalthotics® can help by properly supporting and positioning the feet.
A Foot Levelers foot scan shows how imbalances in the feet can lead to problems throughout your body. The foot scan is then used to create custom orthotic inserts for your shoes to correct these imbalances and give you the support that you need.
Only Foot Levelers custom orthotics support all 3 arches of the foot. Your arches give the foot strength to support the body. Balancing your foundation can help relieve pain and avoid future issues. Ask us about getting scanned or download Foot Levelers Patient Catalog for more information.
The Foot/Spine Connection
All parts of your body are linked together. And your feet are the foundation!
As chiropractors, we are mindful of the whole body – and specifically the musculoskeletal system. As we meet with our patients, we observe data through 3D scans pinpointing the root cause of the problem in order to apply appropriate treatment that typically begins with Foot Levelers Custom Orthotics. Why? Because our feet are the "foundation" of the body and Foot Levelers has an excellent reputation for making the best custom orthotics on the planet.
Since many people suffer with overpronation (often causing imbalances and stresses in the knees, which in turn puts stress on the hip, back, and even our neck), custom orthotics are a vital solution to whole body health. This is the bio kinetic chain in action. When our feet are stabilized and in balance, the rest of the kinetic chain will function as it should. But when our feet are pronated and not properly supported, the rest of the kinetic chain will be negatively impacted – typically resulting in pain and loss of function.

Custom Orthotics Success Story
Multiple Activities? Multiple Orthotics.
If you have more than one pair of shoes and take part in multiple activities, you should seriously consider getting a pair of orthotics for each activity. There are orthotics for sports, work, and leisure. There are even orthotics custom made for children.
How Do Orthotics Work?
Custom foot orthotics are specially-­made insoles that fit inside most shoes. They match the contours of your feet precisely and are designed for the way you move.
Custom orthotics can be prescribed by your chiropractor, and last well over a year in most cases. While over­-the-­counter shoe inserts are available at most drugstores, they lack the custom­-built precision of a prescription orthotic. These 'one­-size-­fits­-all' inserts rarely match your feet well or provide the customized support you need.
Interested in incorporating orthotics into your treatment plan? Contact us today and schedule an appointment to discuss how custom orthotics might ease your discomfort.